Cosmetic Acupuncture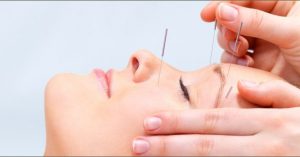 At Acurepoint Health, we focus on providing a safe, gentle and effective cosmetic acupuncture for anti-aging and skin concerns. Our vision is to empower and educate people about harnessing your body's own ability to heal and balance itself to eliminate skin problems and promote healthy and glowing skin. After all, we are the biggest believers of the idea that you shouldn't look different, you should just look like the best version of yourself!
What is Cosmetic Acupuncture?
Cosmetic acupuncture promotes circulation and collagen production over a course of treatments. It is an effective non-surgical treatment to reduce the signs of aging. Also, Cosmetic Acupuncture is an all natural procedure without danger of side effects such as swelling, scarring or a lengthy recovery time.
How can cosmetic acupuncture help?
Acupuncture can stimulate the healing process to repair the support matrix under our skin, whose breakdown causes fine lines, wrinkles and sagging. From a scientific view, acupuncture stimulates the body's natural healing process to repair the matrix, including sending fibroblasts, a special kind of repair cell, to the acupuncture points. Fibroblasts can regenerate collagen and elastin. Studies show that the increased stores of collagen at acupuncture points can be dispersed throughout the face, improving overall skin tone and restoring lift.
Cosmetic acupuncture program
Acupuncture is performed on the face and body to increase local circulation, stimulate collagen and elastin, which helps to fill out lines and give firmness to the skin for a healthy glowing complexion.
As well as receiving acupuncture, cosmetic acupuncture treatments may incorporate various other techniques such as the use of Jade Rollers (dermal rollers), Gua Sha (Chinese spooning) and Facial Massage. Jade rollers gently roll over your skin promoting further circulation and blood flow, removing toxins and stimulating collagen and elastin. Gua Sha is a scraping technique incorporating the use of a flat jade tool with a rounded edge. The edge is used over lines, puffiness, and sagginess to increase tone, smooth out lines and reduce toxins by activating the lymphatic system. Your diet and nutrition may also be adjusted and herbal formulas prepared to balance your body from the inside out.
Our Cosmetic Acupuncture Program includes:
Facial intraDermal needling techniques and uses
Jade roller, Gua Sha & Dermal roller facial massage techniques if needed
Facial diagnosis which combines the best of several existing traditional systems
Simple to use Traditional Chinese Cosmetic Herbal Medicine application if needed
Cosmetic Acupuncture Program Prepaid Package
We also offer the prepaid package for people who sign up to our Cosmetic Acupuncture Program. All packages can be purchased when the patient has made the decision to willingly to proceed with treatments. The purpose of the packages is to make treatments more accessible and affordable for patients that are well informed about treatments and benefits and have decided to continue treatment. No packages are sold to 'lock in' any patient to the treatment they do not desire or mislead patients about benefits of treatment. The package may vary depend on individual conditions. Packages are non- refundable and non-transferable.
Discover more about employing the benefits of cosmetic acupuncture in Perth by contacting our team today.